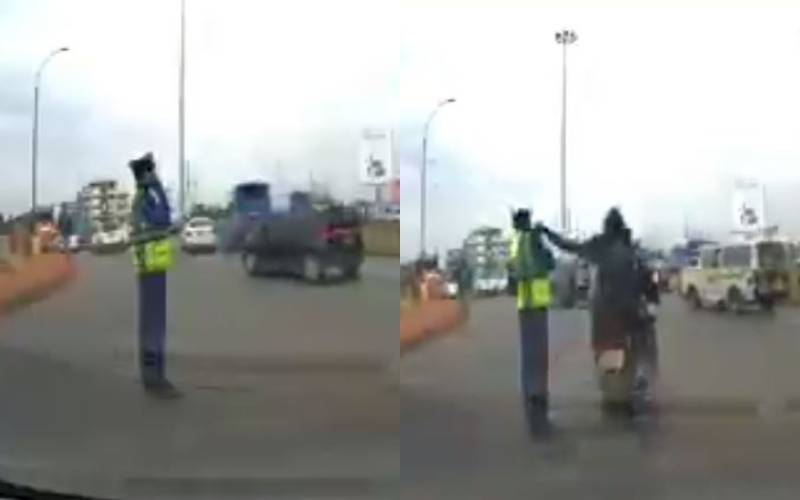 As Kenyans continue to express their frustrations about increased insecurity across the country, a video has surfaced online showing three thieves on motorbike snatching a phone from a traffic officer on duty in Nairobi, the country's capital.
The cop, seen from the video to be on duty at Roysambu roundabout, was picking a call while controlling vehicles when this sad ordeal transpired. He seemed to be relaxed and in communication with either another officer in his line of duty or one of is random callers.
All of a sudden, a motorcycle carrying three criminals drew closer to him. Still unaware of anything, the rider (dressed in black jacket) slowed down as they approached the officer.
The third criminal (seated behind the second criminal in white shirt), dressed in black jacket and a dark blue hat, stretched his hand and quickly snatched the phone from the officer.  The rider then the sped off, leaving the officer flabbergasted and unaware of what to do.
Shortly after the video emerged online, it sparked mixed reactions from Kenyans; many condemning the act while some making fun. Others believe the officer will retrieve his phone as soon as he is done with the investigations.
"Kawangware thieves are topnotch. These people deserve a beating. How do you steal from those who are meant to protect us. This was wrong," tweeted Simon Wachiuri.
Cases of criminals using motorcycles to snatch valuables from innocent pedestrians along the streets have become very common.
They often ride up behind the victim, slow down or even mount the pavement to steal from them. Some now pack even in broad daylight in front of pedestrians before robbing them at gun point.
Surprisingly, these thieves are still on with their dubious dealings despite operations from police officers and citizens that has seen many being burnt to death or sent to jail.
As a safety measure, officers have been calling on Kenyans not to openly display high-value phones, watches and jewelry. They also urge women to keep their handbags fastened and close to their bodies.
Remember, for your safety, never confront a thief or risk your life for the sake of your valuable item.
Do you want to share a story? or news TIPS? Kindly email editor@silvannews.com or WhatsApp +254 708 518 873. You can also find Silvan News on Youtube, Twitter, Facebook and Instagram. Also, turn on the notification bell at the bottom left so that you don't miss any update as soon as it is shared.