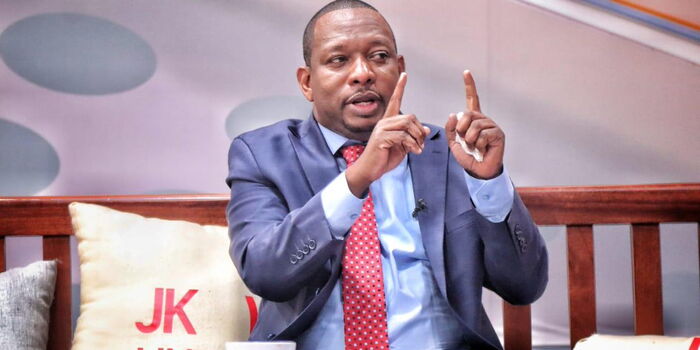 Former Nairobi Governor Mike Sonko has called out a section of Kenyan politicians who are busy infecting their fellow leaders with HIV/AIDS despite already knowing their status.
In a similar Monday night post and tweet on both his verified Facebook Page and Twitter handle that left Kenyans flabbergasted, "KOT DCI" attempting to crack who the culprits are, Sonko called the leaders stupid for bluntly refusing to keep themselves safe from infecting other politicians.
According to Sonko, such leaders are not only stupid but also should not be allowed to live lest they continue infecting others.
"Haki ya Mungu viongozi wengine ni wajinga sana na wanastahili kuchomwa," the ex-governor said. (I swear before God some leaders are stupid and deserve to be burnt to death.)
The leader added that it is shocking despite such leaders, who should be among HIV Community Ambassadors, knowing they are positive and are supposed to use condoms, they are out to infect many as well as leave others pregnant.
"Yani unajijua uko na ukimwi but instead of using rubber ama mpira kazi yako nikuambukiza viongozi wenzako na innocent women plus kuwapea mimba," added Sonko. (So you know you are HIV positive but instead of using rubber or condom your work is to infect other leaders who are innocent women, including leaving them pregnant.)
The former leader believes such leaders will be brought to public account very soon.
"Pepoo wewe. Ngoja tu utaskia very soon," He winded up. (You are a devil. Just wait you will hear about it very soon).
"Sio mimi wewe ngoja inalipuka," Replied Mike to one of the comments on his post that seemed to point a finger at him. (It is not me. Just wait is going to be out.)
HIV/AIDS Prevention&Control Act, Subsection (2) prohibits "knowingly and recklessly, placing another person at risk of becoming infected with HIV" Contravention of these provisions is a criminal offense punishable by imprisonment for up to seven years, and/or a fine."
According to Kenyan blogger Abraham Mutai, the leader in question is a senator.
Do you want to share a story? or news TIPS? Kindly email  editor@silvannews.com or WhatsApp +254 708 518 873. You can also find Silvan News on Youtube, Twitter, Facebook and Instagram. 
Reporter and Editor working side-by-side with teams in the field to shape, write and produce unique and dynamic stories for Silvan News' TV, website and social platforms.