Kiss FM presenter and Morning show host Kameme Goro found herself on the receiving end from Kenyans on Twitter (KOT) following her instagram post on Mental health that she deleted shortly later.
While seeming to target a specific faction of Kenyans that she was not pleased with, Kameme wrote, "Mental health na hamna akili."
For the better part of Thursday 15th July, 2021, the Morning Show host found herself trending at number two, many firing back at her while few defending her remarks.
Though the presenter deleted the post, it was already too late. Many had already taken screenshots and and were quickly cocking their guns to fire back.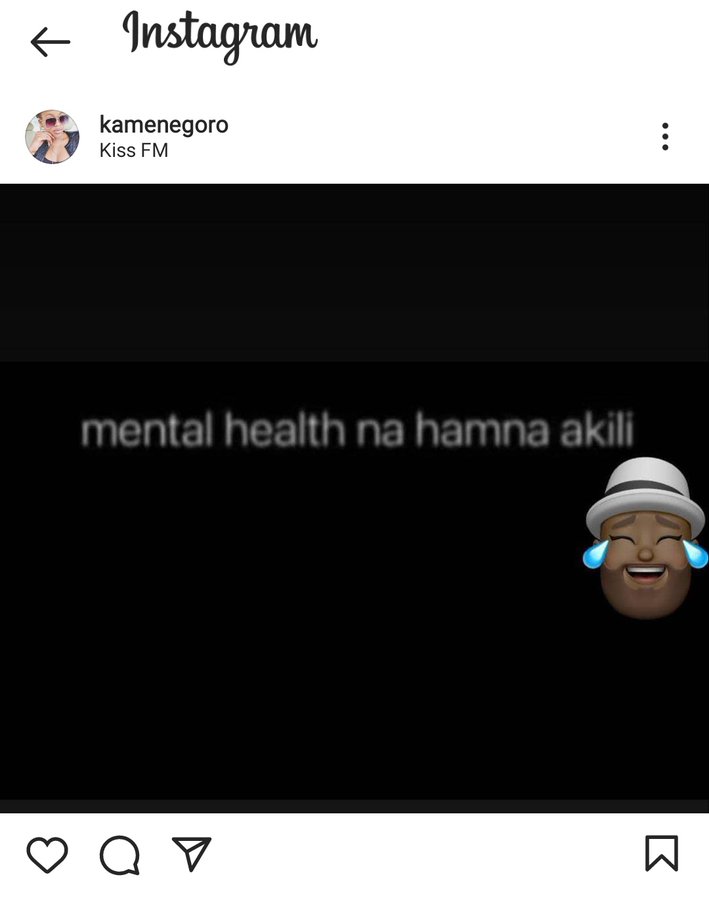 Clearing the air in a conversation with one of the media houses shortly after thousands of missiles from exasperated KOT, Kameme said that her posts only targeted mindless people and not those with mental issues.
"I have also struggled with mental health issues all my life up until today. If anything, I would never joke about it. The post was a joke about people who are 'mindless'," said the former Ebru Tv News Anchor.
The journalists added that "I didn't mean to troll people with mental health. I don't take mental health issues lightly because it's something I was once diagnosed with."
Over the past few years, cases of victims of mental health issues being victimized have been on the rise.
While some have sought health from mental health centers, a number have opted for the most painful decision; committing suicide.
According to World Health Organization (WHO), approximately 8 million deaths are as a result of mental health related issues.
More than 400 million people in the world are currently suffering from Mental health disorders, a survey by WHO revealed.
Do you want to share a story? or news TIPS? Kindly email editor@silvannews.com or WhatsApp +254 708 518 873. You can also find Silvan News on Youtube, Twitter, Facebook and Instagram. Turn on the notification bell at the bottom left so that you don't miss any update as soon as it is shared.
Reporter and Editor working side-by-side with teams in the field to shape, write and produce unique and dynamic stories for Silvan News' TV, website and social platforms.